Resume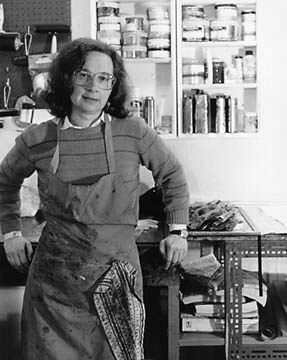 Download Resume in PDF format
Selma Swartz Bromberg attended Smith College (BA) and Tufts University and Museum School (MFA). She is a member of the Experimental Etching Studio of Boston, The Boston Printmakers, Monotype Guild of New England, and the DeCordova Museum Loan Program. 2007 Medici Society member of Museum of Fine Arts: recognition for selling a significant amount of work during the December sale at the School of the Museum of Fine Arts, Boston.
Bromberg was a resident artist at the Virginia Center for the Creative Arts summer, 1995 and 1996, the Vermont Studio Center summer, 1993 and 1999 and winter, 1997 and 1998 and Gros Morne National Park, Newfoundland, Canada summer, 2000.
Selma lives and works in Weston, Massachusetts where she has built a fully equipped studio including a printing press.
collections
Boston Public Library
Smith College Library
Worcester Art Museum
Fogg Museum at Harvard University
Harvard Law School
Duxbury Museum Complex
Federal Reserve Bank of Boston
solo exhibitions
Women's History Month Show

Mayor's Gallery

Boston City Hall, Boston, MA

March 2010

Acacia Gallery

Gloucester, MA

2001

The John Callahan Gallery

Newbury St., Boston, MA

1997

Carney Gallery at Regis College

Weston, MA

1997

The Arnold Arboretum of Harvard University

Jamaica Plain, MA

1991

Habitat Institute for the Environment

Belmont, MA

1989

Waltham Public Library

Waltham, MA

1988

Lexington Public Library

Lexington, MA

1985

Harvard Law School

Cambridge, MA

1984

Walters Gallery at Regis College

Weston, MA

1977
Travel
Taiwan
Newfoundland
Virginia
Vermont
Utah
Recent exhibitions
Push/ Pull Recent Work of the Printmaking Faculty at Cambridge Center for Adult Education

CCAE

Cambridge, MA

2016

The Boston Printmakers, Palate to Plate

Newport Art Museum

Newport, RI

2015

The Boston Printmakers, Look Again

Art Complex Museum

Duxbury, MA

2014

February Show

Artana Gallery

Boston, MA

2009

Wind, Water, Rocks

Bromfield Gallery

Boston, MA

2004
selected juried exhibitions
Monotype Guild of New England

Gordon College

Wenham, MA

2013

New York Society of Etchers

The National Arts Club

New York, NY

2013

Maud Morgan Arts

Chandler Gallery, 2D Small Works Salon

Cambridge, MA

2012

New Landscape

Danforth Museum

Framingham, MA

2006

Three, EES Arts

The Art Complex

Duxbury, MA

2006

North American Print Exhibition

Boston University

Boston, MA

2001

Boston Printmakers

Duxbury Art Complex

Duxbury, MA

Juror's Choice Award

1998

Prize Show

Cambridge Art Association

Cambridge, MA

1996

and

1997

First Prize Winner

MGNE Monotype Celebration

Fuller Art Museum

Brockton, MA

1995

Art from the Press

Cambridge Artists Cooperative

Cambridge, MA

1995

Working Proof: The Experimental Etching Studio

Boston Public Library

Boston, MA

1992
selected group exhibitions
The Second Open Contemporary Print Competition in Southwest Cornwall, UK

Falmouth, UK

August 2011

"Peonies" print

1st National Exhibition of Intaglio prints at the National Arts Club

The New York Society of Etchers

New York, NY

June 2011

"Peonies" print

Artists in Residence at Gros Morne National Park

Newfoundland, Canada

2009

Recent Prints at Newbury College

Boston, MA

2000

Shifting Grounds: The Dialogue of Print

Fuller Gallery, Boston University

Boston, MA

1997

EES Showcase: Open Portfolio for New England Printmaker's Symposium

Massachusetts College of Art

Boston, MA

1997

Boston Museum School Alumni

South Shore Arts Center

Cohasset, MA

1994

Monotype Guild Show

Federal Reserve Bank

Boston, MA

1994

Experimental Etching Studio: Current Works

Clark University Gallery

Worcester, MA

1993